Determining Chandrabala& Täräbala
It is to be noted that one pointed devotion to Lord Hari is all 'bala' or strength that can be received from all favorable planetary positions combined! Saint Purandara Dasa has sung a beautiful song in this connection "balavu balavayya…"
However, to check Chandrabala is also important as ordained by the Lord Himself to carry on auspicious samskaras. In other words, to see if the demigods are in favorable position to carry out the devotional activities although seemingly material (such as samskaras), these considerations are required.
Importance of Chandrabala:
sarvakäryeñu gocare candrabakamävaçyakam | tadyatha – candro'nnamadhanaà saukhyaà rogaà käryakñatià çriyam, çtriyaà mrtyuà nåpabhayaà sukhamäyaà vyayaà kramät; sthäneñu dvädaçasvetajjanmaräçeù prayacchati, suklapakñe çaço çreñöho dvipaïcanavameñvapi
(Dharma Sindhu, 3rd Chapter, Chandrabalavicäraù)
It is important to check Chandrabala for all auspicious works. From the birth rashi, Chandra always causes various influence upon a living being in all the twelve rashis in sequence. Calculating from janma rashi upto the next twelve rashis in sequence, the following influence is to be known from 1st position to 12th position respectively: Gain of food, poverty, happiness, disease, failure, wealth, woman, death, tax imposition or problem from bureaucrats,  happiness, loss and gain.
Determining Chandrabala:
Please Note: If your rashi is "Mesha Rashi (Aries)", "Simha Rashi" or "Tula Rashi", then you do not have to worry about Chandrabala. The Lords of Mesha Rashi and Vrshika Rashi are same, i.e., Kuja. And Vrishchika rashi is at the 8th position from Mesha Rashi. Hence there is NO NEED to check Chandrabala for Mesha Rashi born throughout their life. They will not have this problem. The same holds good for Tula Rashi born. The Lord of Tula Rashi is Sukra and the 8th position from Tula Rashi is Vrishabha Rashi whose Lord is also Sukra. Hence, they too need not worry about it. As far as Simha Rashi (Lord- Surya) born are concerned, the 8th position from Simha Rashi is Meena Rashi (Lord – Guru). Both the Lords of these two rashis are friends. Hence, there is no problem of Chandrabala for Simha Rashi born also. All other will have to check Chandrabala for any auspicious activity to be done.
How to determine Chandrabala:
See the chart below. The starts are grouped into the Rashis. There are twelve Rashis.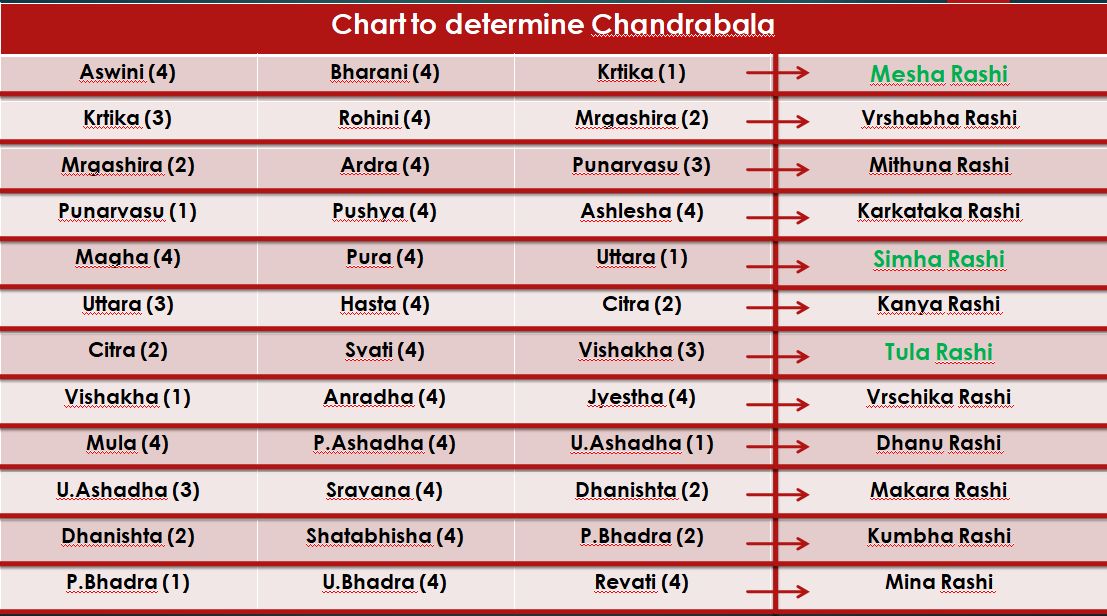 From the birth Rashi, count downwards upto the position of the rashi in which moon is situated today (or the day you are checking for). If it is 8th position, this is known as "Astamachandra" and indicates "Death". Hence if it is astama Chandra for you, that day is not auspicious for Garbhadhana samskara.
If it is not ashtama Chandra, then you should consider that to be the good day.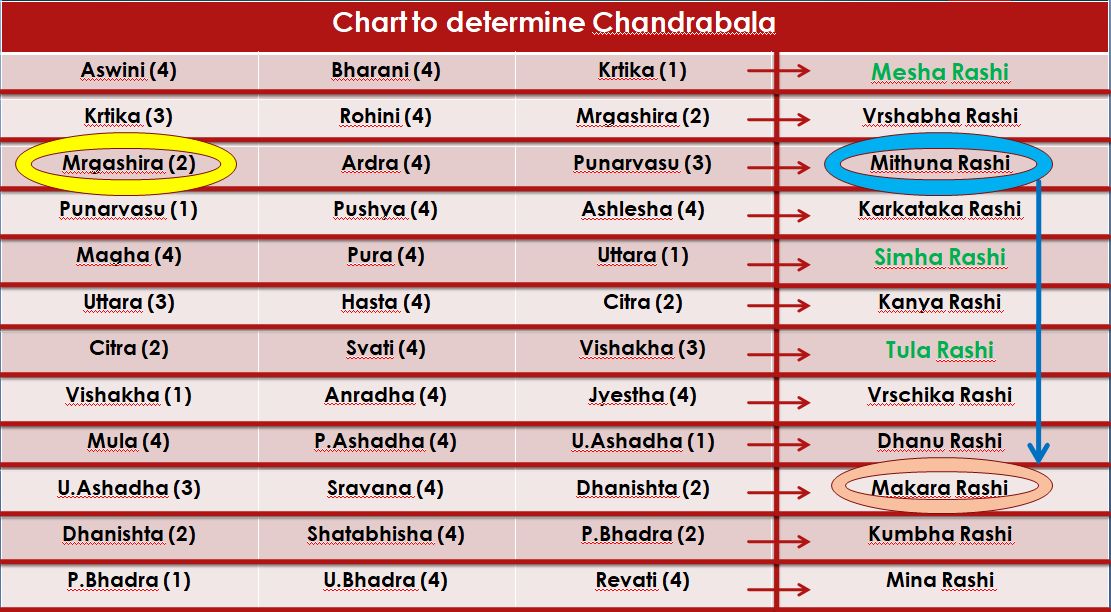 Determining Tarabala:
The nakshatras are grouped in to taras as given in the table below. The influence of the taras on you is known as "Tarabala". From (1)Janma tara, the influence will be (2)Sampat tara (gain of wealth), (3)Vipat tara (Loss or danger), (4)Ksema tara (welfare), (5)Pratyara tara (Loss), (6)Sadhaka tara (fame), (7)Vadha tara (death), (8)Maitra tara (happiness), (9)Parama maitra tara (Disease).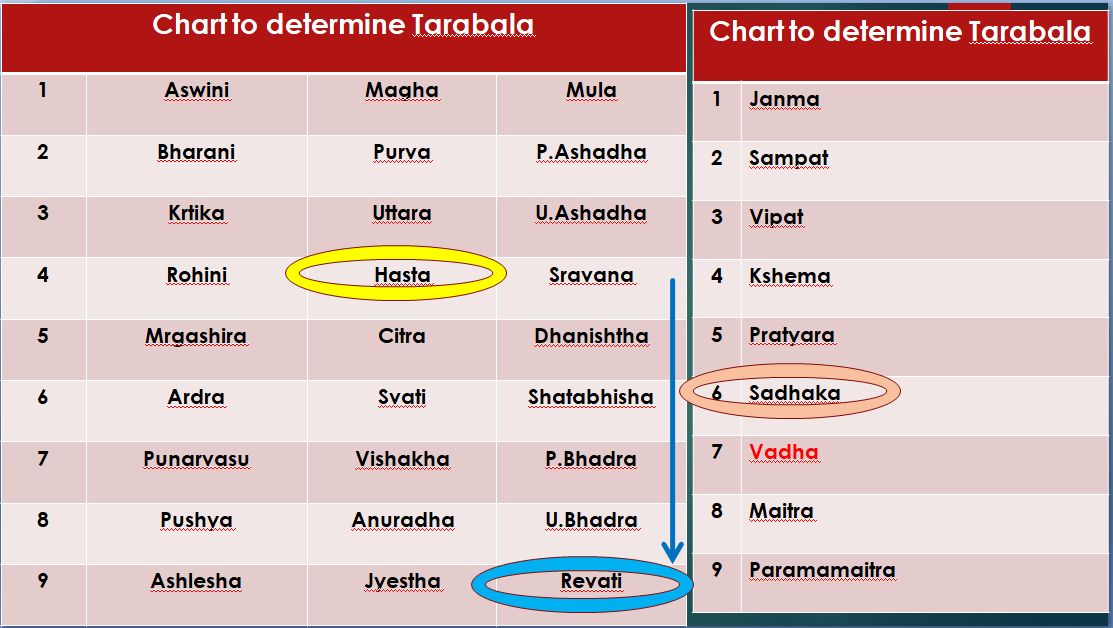 From your Janma tara count down upto the tara today (or the day for which you are seeing). The corresponding position is to be checked as "Janma tara, Sampat tara…Parama maitra tara" as described above.
Sampat tara, Ksema tara, Sadhaka tara and Maitra taras are auspicious for all activities.
Whereas, the Vadha tara is not auspicious for any activity. Hence, for Garbhahdana samskara also, Vadha tara SHOULD NOT be there.
However, it is said "dänena sarveñäà tärädoño na vidyate". By giving charity, one can mitigate the if the Tarabala is inauspicious.
Charity of vegetables, jiggery, salt or sesame to Vaisnavas, Goseva and strong devotional practice can mitigate unfavorable tarabala.